Imagination Base is a full service agency that deliver compelling website solutions and effective digital marketing solution.
Our winning solutions and 19 years of experience has helped our clients to interact and engage with their customers and gain goal driven results.
Imagination Base has been a go-to web solution provider for businesses local in the Louisville, Kentucky area and national in a variety of  areas from industrial and small businesses to continuing education providers, state societies,  tax professionals and ADA compliance for schools for almost 20 years.
ImaginationBase founder, Teresa Huber, has led development and project management for over

200 web projects

with a team of

8 WordPress and PHP experts and designers.

 She is known for her ability to create systems and marketing solutions that increase visibility, leads and sales.
Our breadth and depth of marketing expertise includes developing systems, from pricing, to new products, marketing -both onilne and off-line print – all focused on attracting new business and building your online presence through an optimized website and online strategies.
We have a proven record and years of experience of building online businesses. While we understand the high-tech trends of the digital marketing landscape, what sets us apart is our high-touch service. We listen to your needs, can help you with execution as well as train you so you can grow your in-house knowledge.
Delivering solutions for speciality situations such as continuing education and ADA compliance for schools, government municipalities and agencies.
For continuing education providers and state societies, our knowledge of the online education space includes developing solutions that delivers results, both from the user experience and for the client. Such as member registration and managements, selling online courses, seminars, webcasts and issuing continuing education certificates virtually with the click of a button.
With the ability to view a business and see how to drive the traffic of their target market to their website – turning prospects into leads – helping you turn your leads in to customers and clients.
By combining creative ideas with our experience in web development, online marketing and search engine optimization (SEO) with proven business growth results that deliver measurable results for my clients.
Our winning solutions helps to deliver great results across several key areas: web design, search engine optimization, social media marketing, email marketing and drip email campaigns and digital marketing. This combination has helped many of
our clients realize a 25% to 400% increase in revenue.
Contact us to put our Imagination to work on ways drive high-quality targeted traffic to your website and get the right Base systems in place to turn prospects into leads today!
We love to hear from our clients!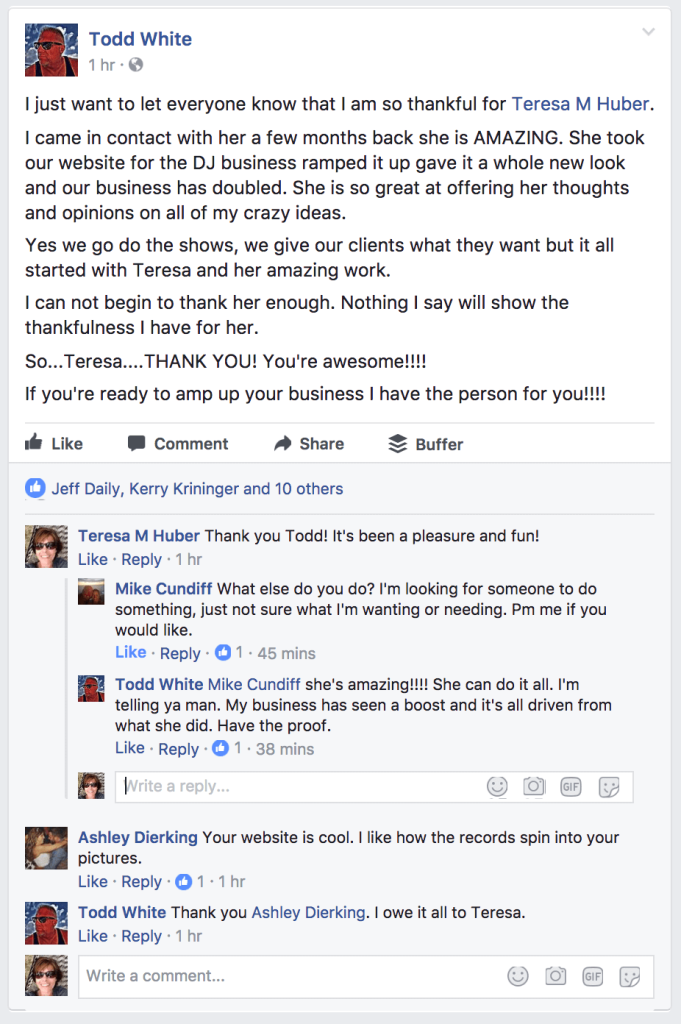 I have had the good fortune of working with Teresa at Imagination Base on several projects. Teresa is an amazing and skilled designer. Her creativity and wealth of fresh idea for web page or advertising far exceeds what a person might try to put down in a few words here. Both in public projects and in a private sector settings, Teresa clearly tops others in her field. She and her team take the time to listen carefully and then crafts the result in a "team" approach with the customer so that each detail comes through in the finished product. I have been very impressed and satisfied with the Imagination Base web design result. Imagination Base's work is always first rate.
If you help enough people get what they want, you will get what you want. – Zig Zigler
We live by this – knowing if we help your business,  everyone will benefit.
Based in Louisville, Kentucky With Clients Nationwide